10 Things You Need to Know About Awesome Baby Showers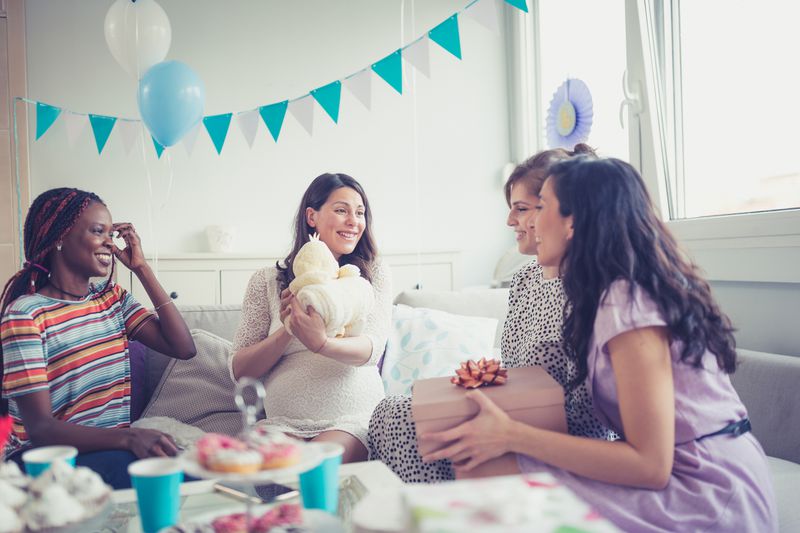 Dear Parents (or soon to be Parents or Friends of soon to be Parents...),
A baby shower is quite an undertaking. How to organise one and – most importantly – what gifts are perfect for this occasion? We are here to give you answers to the 10 most pressing questions:
1. What is a baby shower? A baby shower is an American tradition that is rapidly becoming popular in other countries, including Switzerland. This is more or less a party for a future mum: women share their joy in a friendly atmosphere surrounded by loved ones. A baby shower is further a great opportunity to learn things about how to raise a child, particularly if it is the very first baby. And guests give gifts to the mum and the unborn baby.
2. How and where to organise a baby shower? Before you start organising a baby shower, first think about the future mum – ideally, such a party will not have any alcohol. Also, do nothold the party at a Spa or any other place a pregnant woman should or could not go to. The future mum is the most important person on this day, and everyone else has to adapt to her. 
3. Who plans and hosts a baby shower? According to tradition, baby showers should be hosted by a friend or distant relative instead of a close family member. However, like many traditions, this rule is no longer strictly observed these days. In fact, it is usually considered totally acceptable for a sister or mother-in-law to host or co-host a baby shower.
4. What are co-ed baby showers? It is becoming increasingly common to include men - friends, spouses, and relatives - on the guest list. But inviting them does naturally change the chemistry of the party. As such, you need to decide whether you want that traditional "female-bonding ritual," with lots of oohing and aahing over adorable baby clothes and tools or whether you are looking for a co-ed experience. Importantly, also make sure to consider the personality of the dad-to-be. Some may relish sharing in every aspect of the pregnancy, while others may be uncomfortable with the idea of being a guest of honor at a baby shower. Ask the mother-to-be about her preferences on the matter.
5. When should you plan a baby shower for? Baby showers are typically held four to six weeks before the baby's due date. As such, they are late enough that the pregnancy is well along, but likely early enough to avoid an untimely arrival. They can be organized as early as towards the end of the second trimester though.
6. Should you have a baby shower for a second child? Every pregnancy deserves 100% a celebration, but since the real purpose of a baby shower is helping new parents get advise and acquire gear and supplies, it is probably not necessary to host one for second or third child. Instead, consider throwing a more generic small party / get-together, where also significant others and kids are invited to.
7. Do baby showers need games and a theme? No. The baby shower host should follow guidelines from the mother-to-be. There is absolutely no rule stating that games must be played, or that the color scheme must be pastel. Do what suits the mother-to-be best and what would make her feel comfortable and have her enjoy herself.
8. What are some popular baby shower games to play? There are countless games you can play. First make sure that the mum-to-be is into them though. Some mums prefer a baby shower with none and that is totally ok. If you would like to include some games, here our five favourites i) name that baby tune ii) the price is right for baby toys & tools iii) diaper raffle iv) Would she (soon to be mum) rather... v) baby bottle bowling.
9. Who should you invite to the baby shower? Naturally, good friends and family members should be at the very top of the guest list. Beyond that, only choose guests who would gladly celebrate the mother-to-be and buy her a gift. Do not invite people who will not enjoy the setting or feel uncomfortable with it for other reasons.
10. What gift to buy for a baby shower? When going to a baby shower, you must remember that this is first and foremost a party for the mum. Coordinate with other participants what you will be buying to avoid getting the same presents. Look for practicality of the gifts, but also the needs of the mum herself. Showher that you are thinking not only about the baby, but also about her. Gifts that will make the mum's pregnancy more pleasant are also a great idea. For the baby, you can buy almost anything including clothes in neutral colours (especially when you do not know the sexyet), as well as practical accessories that will make life easier for the young parents. We at Little Genius obviously think that our Genius Boxes are the perfect gifts to give as they are curated, practical and not only save mums valuable time but also ideally support the baby's development from Day 1 onwards. Purchase our Box No.1 or subscribe the mother-to-be / buy a prepaid package together with other invitees. We also do offer gift cards (with no expiration date).
We hope these answers are helpful and as always please send us your reactions. We love to adjust and update the above list. 
Kind regards & rock on!
Erika & the Little Genius team 
Note: We are using "mum" / female pronouns throughout the article for simplicity, but the baby shower can certainly be for any mum of any gender.