Everyone Talks About It, But What Is Montessori Even?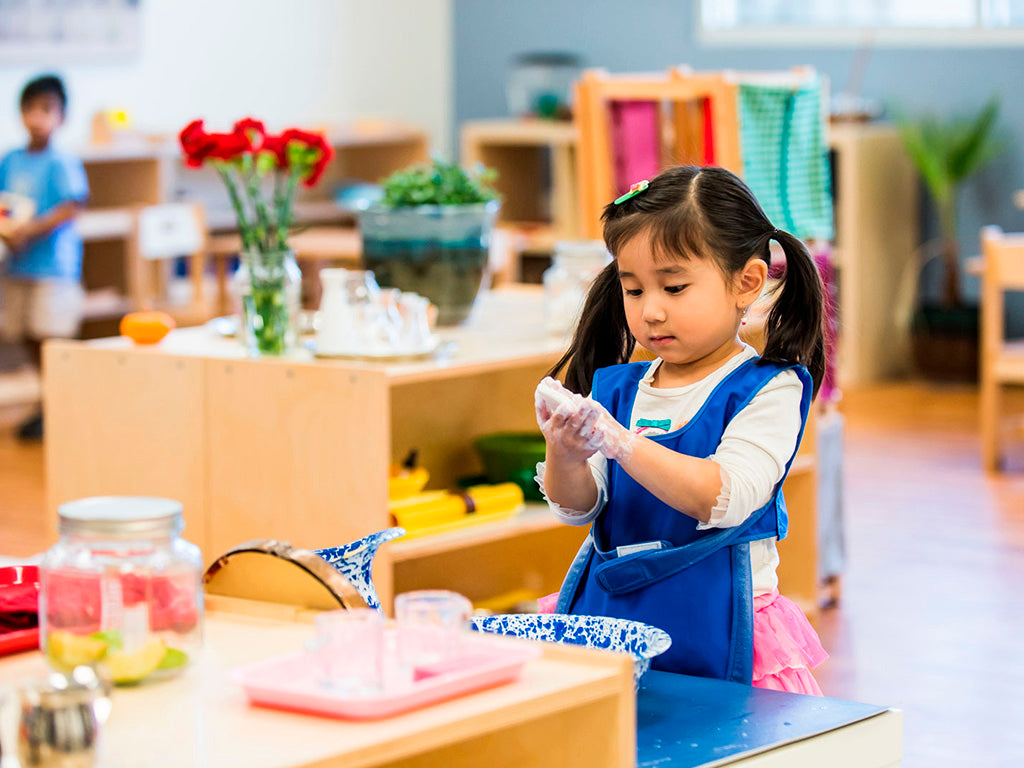 Hello Dear Parents (or soon to be Parents),
Everyone talks about it - Montessori. Parents wait for months to get their kids enrolled into Montessori schools / pre-kindergartens and spend hours trying to find Montessori toys and tools. In this blog post, the first on this topic (many more to come!), we want to provide you with a brief overview so you get an initial understanding on this important topic.
What is the Montessori philosophy:
Montessori is a philosophy that looks to support the natural development of each child to their maximum potential. It views education as a tool to aid this process and believes such learning can start from birth. Babies are natural learners from birth, not empty vessels to be filled. They are observing everything. They communicate with gurgles and different cries. They never stop moving.
Montessori is different from the top-down learning of traditional education. Montessori sees every child as unique, with their unique way of learning, unique interest and a unique development timeline. As such, the most important aspect is to set up a classrooms and any other playing space as one that is a rich learning environment. Children have their freedom to choose an activity they wish to work on, mixed by ages so that the older children will naturally be modelling for the younger children and are able to help them. In doing so, the older children reinforce their own learning and the younger learn so much by observing the older. 
Our subscription boxes are crafted so that they help you set up these beautiful spaces with inviting objects and activities for your baby to explore. We can observe when they need help and can allow them to make discoveries for themselves. 
Who is the founder of the philosophy:
Dr. Maria Montessori (1870 - 1952) was an Italian medical doctor and scientist with a background in anthropology. Dr. Montessori believed that the children needed to nourish their minds in addition to their bodies. She recognised that they needed more stimulation, so she incorporated materials and techniques developed by French physicians Jean-Marc-Gaspard Itard and Edouard Seguin. Through various studies and countless modifications that she incorporated through the years she was able to counter misperceptions about babies and their consciousness. Parents and scientists alike around the world were fascinated by her approach and methodologies and carried out the philosophy into the entire world.
Over the coming days and weeks, we will share many more posts about this topic. It is multi-faceted and fascinating. However, given it is used highly inflationary in today's world and most often just used for marketing purposes, it is of utmost importance to really get to know the concepts of this so powerful philosophy. 
Our sustainable & safe Genius Boxes are inspired in all its aspects through the Montessori philosophy. We live by it and want to share tools that we feel ideally support the inclusion of Dr. Montessori's philosophy into our daily lives.
Kind regards & rock on!
Erika & the Little Genius team
PS: Be careful when providers label their products as Montessori. Most are not and neither do our boxes only contain the official trademarked toys by the Montessori foundation. However, we have strictly applied the core principles of the philosophy and incorporated them throughout in our careful selection of the ideal, sustainable toys for our subscription boxes.